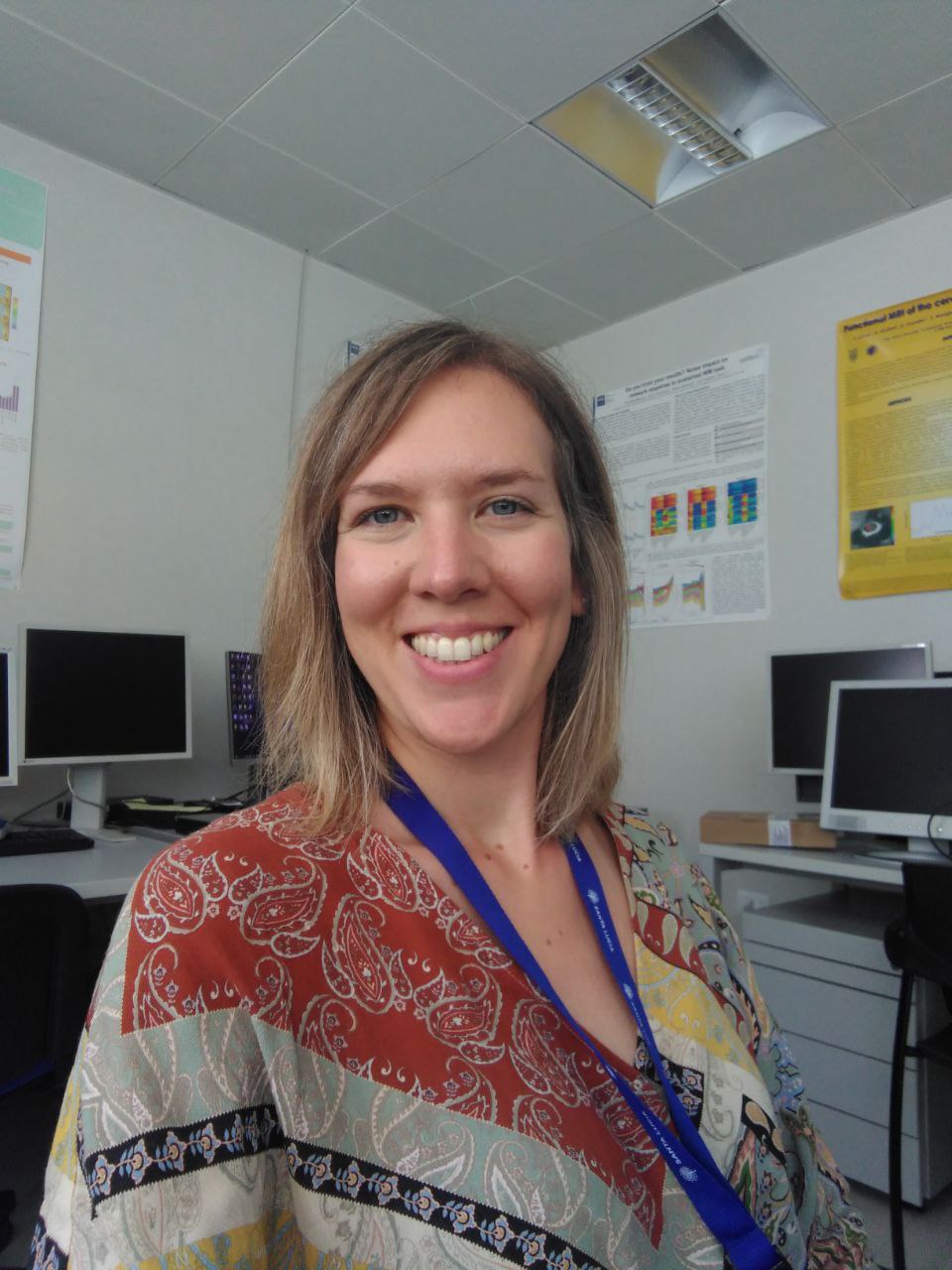 Maria Guidi si è laureata in fisica nel 2013 presso l'Università di Copenhagen con una tesi intitolata "Scale selection in fracture patterns: A case study in columnar joints".
Successivamente si è spostata al Max Planck Institute for Human Cognitive and Brain Sciences di Lipsia, dove ha ottenuto un titolo di dottore di ricerca (PhD) sotto la supervisione di Prof. Dr. Harald E. Möller e Dr. Laurentius Huber. La tesi, intitolata "Physiological modulators of the BOLD response in the human primary motor cortex" ha trattato l'imaging ad alta risoluzione della risposta funzionale nella corteccia motoria ottenuta con scanner Siemens Magnetom 7T. Uno dei principali risultati del suo lavoro è stato l'estrazione di profili della variazione del rate di consumo di ossigeno (CMRO2) negli strati corticali della corteccia motoria primaria a seguito di task motori. Per questo lavoro ha ricevuto un "Summa cum Laude merit award" dalla International Society for Magnetic Resonance in Medicine in 2015.
Attualmente sta esplorando l'uso di tecniche di BOLD calibrato combinate a VASO ad alta risoluzione su Siemens Prisma 3T per lo studio della fisiologia cerebrale nell'aging.
Pubblicazioni selezionate
1. DiNuzzo, M., Mascali, D., Bussu, G., Moraschi, M., Guidi, M., Macaluso, E., Mangia, S., & Giove, F. (2022). Hemispheric functional segregation facilitates target detection during sustained visuospatial attention. Human Brain Mapping,1–11. https://doi.org/10.1002/hbm.25970
2. Guidi M, Huber L, Lampe L, Merola A, Ihle K, Möller HE. Cortical laminar resting-state signal fluctuations scale with the hypercapnic blood oxygenation level-dependent response. Human Brain Mapping, 2020;41:2014–2027. https://doi.org/10.1002/hbm.24926
3. Laurentius Huber, Daniel A. Handwerker, David C. Jangraw, Gang Chen, Andrew Hall, Carsten Stüber, Javier Gonzalez-Castillo, Dimo Ivanov, Sean Thomas Marrett, Maria Guidi, Jozien Goense, Benedikt A. Poser, and Peter A. Bandettini. High-Resolution CBV-fMRI Allows Mapping of Laminar Activity and Connectivity of Cortical Input and Output in Human M1. Neuron, 96(6), 2017. https://doi.org/10.1016/j.neuron.2017.11.005
4. Maria Guidi, Laurentius Huber, Leonie Lampe, Claudine J. Gauthier, and Harald E. Möller. Lamina-dependent calibrated BOLD response in human primary motor cortex. NeuroImage,141:250–261, 2016. https://doi.org/10.1016/j.neuroimage.2016.06.030
5. Laurentius Huber, Dimo Ivanov, Daniel A. Handwerker, Sean Marrett, Maria Guidi, Kâmil Uludağ, Peter A. Bandettini, and Benedikt A. Poser. Techniques for blood volume fMRI with VASO: From low-resolution mapping towards sub-millimeter layer-dependent applications. NeuroImage, 2016. https://doi.org/10.1016/j.neuroimage.2016.11.039
6. Laurentius Huber, Dimo Ivanov, Maria Guidi, Robert Turner, Kâmil Uludağ, Harald E. Möller, and Benedikt A. Poser. Functional cerebral blood volume mapping with simultaneous multi-slice acquisition. NeuroImage, 125:1159–1168, 2015. https://doi.org/10.1016/j.neuroimage.2015.10.082
7. Laurentius Huber, Jozien Goense, Aneurin J. Kennerley, Robert Trampel, Maria Guidi, Enrico Reimer, Dimo Ivanov, Nicole Neef, Claudine J. Gauthier, Robert Turner, and Harald E. Möller. Cortical lamina-dependent blood volume changes in human brain at 7 T. NeuroImage, 107:23–33,2015. https://doi.org/10.1016/j.neuroimage.2014.11.046
Curriculum Vitae
Website